"The only way to discover the limits of the possible is to go beyond them into the impossible."
I have been able to compare so much of life to boxing lately. Probably the most common one is when life hands you a punch do you choose to submit to it or stand up and fight back?
Today marks my second time getting into a ring. As I sit here writing this I am excited, nervous, happy and full of wonder about what my journey will look like tonight.
I am a person who had chosen to get up and fight back both in the ring and out. My goal is to go out there and be the best possible version of me that I can be to make myself proud of the work I have put in.
There are reasons why I choose to do this. There is purpose behind the sweat equity that I invest in my life.
The first is that I know that my abilities  to take part in some activities at some point soon might radically change. My ankle continues its own path of degrading. The pain is always there no matter what I do and I know that eventually I will have to give in to the medical procedure that will allow me to walk without so much discomfort.
There are risks to this as with any surgery from the most common to the most feared which includes the loss of my foot if this procedure backfires. Even though I know the chance of that is minimal because I have a fantastic surgeon it still sits in the back of my head. Therefore I want to make every moment that I can do these things count.
Don't get me wrong ~ no matter what the outcome of that procedure is nothing will hold me back from working to adapt. If I can't run I will bike or swim and there's nothing that says I can't bench press a whole lot with my upper body ~ competitive weight lifting here I come!
My second reason to continue with diving head first into these experiences is to continue to motivate, inspire, encourage and educate those around me ~ most of all my children.
When I was approached to do this fight even thought I was still partially in recovery from my skin removal surgery I didn't hesitate. To do this for kids at risk is an incredibly personal and impacting reason for me as I have encountered my own moments with a child involved with mental health issues and the law.
I have overcome so much to get to this point and if one young person out there can see what we're doing with this event and know that there is something for them outside of what they think they are capable of then it's worth the blood, sweat and tears that all of us are putting in.
Bigger than these reasons though is the voice inside my head that continues to scream at me to keep going, to never give up. All I hear is PUSH, PUSH HARDER!! I have this burning desire to propel myself outside of my comfort zone. I am no longer a person who lives within a box or within their fear. I embrace change, challenge and chances!
So tonight it continues. No matter what the outcome of my fight is I know I win every day that I am here and every day that I live my life in a way that is testimony to hard work and dedication bringing powerful results. I go into that glorious ring with its dreams, hopes and visions and in doing that I feel loved and supported by so many people. I will bring my best tonight as I know all the fighters will.
Wherever you are, whatever you're doing I hope you're finding your reasons, your drive, your desire and your inner voice and that you're getting up to fight back.
Love D.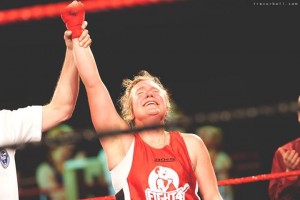 Photo Credit: Trevor Ball